http://www.myspace.com/screenvinylimage

Mileta zauberquelle za Plastelin:

Screen Vinyl Image - Midnight Sun EP (Safranin Sounds, 2007)

<== The Angelic Process - Weighing Souls With Sand (Profound Lore 2007) Nadja - Thaumogenesis (Archive, 2007) Utisak je negde očitiji i materijalniji da je formula muško/žensko više nego dovoljna da se iščaure sjajne stvari. Uopšte, često sam razmišljao zašto su bendovi u formi dueta koherentniji ili konkretniji nego oni pravi, u nekim slučajevima naravno. Izgleda da se muzičke i ideološke vizije mnogo lakše dele, bez balasta unajmljivanja muzičara koji se inače predstavljaju kao članovi benda, a uistinu - sem što im gazda grupe plaća najam iz iste kase - nemaju ništa zajedničko. Pa masa bendova ima kao kompozitorsku osovinu dva čoveka, žene ili čoveka i žene, tako da se neki jednostavno odlučuju da taj put prekrate. Pojavom bendova koji su koristili elektroniku u bilo kakve svrhe (setimo se Sparks ranih 70-ih), pa baš i promocijom brutalne elektronike (DAF) najsuptilnije ikad moguće (Associates), pa do mogućeg prototipa muško/ženskih dueta (Eurythmics, Pet Shop Boys, Soft Cell) top liste su opravdavale takve poteze. .., ovde imam nisku od tri bisera i naravno, više nego dobitnu muško-žensku kombinaciju. Jedan na jedan, u kreativnom smislu pre svega, negde i emocionalnom. Posle svega didaktički odslušanog znam da

Screen Vinyl Image

nisu nastali na zgarištu Alcian Blue, već na njihovim razbacanim opušcima i ovo je, bez sve šale, jedna od najdramatičnijih sezonskih konglomerat-ponuda. Za dramatizaciju i virtuelnu biografizaciju svojih psihotičnih užitaka vispreno su & inteligentno izabrali najbolji mogući format - Extended Play, koji im je kao i njihovim mnogobrojnim herojima u 80-im omogućio da tonsku viziju ne vežu za jedan zvuk i da praktično sa ovog uporišta iskorače gde god žele i kada to požele. Narcisoidno i ironično visokosvesnim pristupom i kvalitetom ozbiljno ismevaju sve trenutne "spotlight-hype-zvezde", ali i čine ono za nas kao slušaoce najvažnije, svoja uverenja zarazno spuštaju na vinil (dobro, zamislimo vinil) da nema prilike da se ikakva zamerka iznudi. Pristajem da kažem da meni sve ovo i mora baš da zvuči... ovako.

Od samog početka imam utisak da su The Shadows prebačeni u new wave audiciju gde ih je nekako Stevo iz Some Bizzare kiNdapovao, ritam mašinu pozajmio od bilo kod leedskog benda sa početka 80-ih obučenog u crno, ugurao u soundtrack za CAN panel diskusiju (sa trip/hop reklamama), naveo u ispovedaonicu PSYCHOBROTHERA i iznudio im iskaz da prva ljubav (shoegaze) zaborava nema i na kraju kao ovogodišnji zadatak zapov(j)edio da recikliraju SUICIDE i pridodaju TUXEDO MOON (kojima nije rekao je l' amerikanska ili belgijanska lokacija na ID-u), sa sve promutiranim JAMC gitarama. Za razliku od već (opet) nenavedenih "petokolonaša" Screen Vinyl Image ne mešaju dobro i zlo u uticajima, nisu "neznalice" kao policijske snage koje nikad nisu čuli za recimo JD i šta mi još znamo, već svoje uticaje najobimnije nose i pamfletiraju. A opet zvuče zasebno, bez obzira što je svaka pesma sasvim drugačija. Jedva čekam da vidim tj. čujem sledeći EP-ako ga bude... Bar je tradicija bila ranije, par EP-a pre albuma...

[..]
ceo tekst je na
plastelinu
.
sa zvanicnog sajta njihovog lejbla:
THE MIDNIGHT SUN EP
After several listenings all I can say is that this 5 tracks EP is a little monster of 90's psychedelia and synth-driven kraut'n'roll with vocals reminiscent of 80's synthpop. The duo (E*lectra Blue* and J. Sequential) spawn their sonic assault with guitars and electronic devices through those hellish Death By Audio pedals and effects (created by Oliver Ackerman - ex-Skywave now with A Place To Bury Strangers). This ep is out on the great Safranin Sound label - property of Alcian Blue and among the labels supporting the new shoegaze/nu-gaze scene. I bet SVI play a killer liveset and surely would be a perfect dj-choice for demanding dancefloors. All you could
ask for in a record.

-Andrea Vercesi (Italy)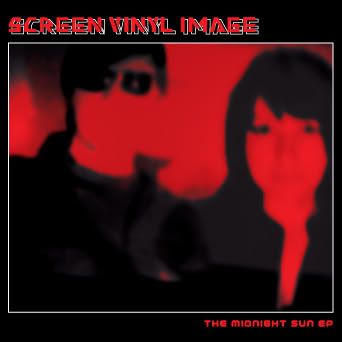 Screen Vinyl Image - The Midnight Sun EP
Label: Safranin
Catalog#: SAF011
Format: CDr, EP, Slimcase
Country: US
Released: 03 Apr 2007
Genre: Electronic, Rock
Style: Psychedelic Rock, Shoegazer, Ethereal
Credits: Mastered By - Archie Moore , Danny Kopelson
Performer - Electra Blue , J. Sequential
Photography - Nick Ridgeway
Written-By, Producer - Screen Vinyl Image
Tracklisting:

1 Roaming Spirit Freedom (5:56)
2 The Midnight Sun (6:57)
3 Passing Through Mirrors (3:12)
4 16mm Shrine (5:48)
5 Black Leather Jacket (3:24)
mp3 224kbps ~40MB
zip
[pass: ves] or
tar.gz
/// pass: ves //
//sa moje 2007. liste