live @ Akademija 10.11.2007. (zahvaljujuci
Night promotions
)
dvojica drugara i ja. koncert: fantastika. prevazisao nasa ocekivanja, pokazao zasto su Diary of Dreams - diaryofdreams.
lepo skrojena setlista
1- Nekrolog 43
2- Psycho Logic
3- Chemicals
4- O' Brother Sleep
5- Son of a thief
6- Giftraum
7- Soul Stripper
8- the Cage
9- Panik
10- the witching Hour
11- Play:God!
12- Traumtänzer
13- the Plague
14- kindrom
15- the Curse

bis 1
1- AmoK
2- She

bis 2
1- Butterfly:dance!
2- AmoK (Acoustic)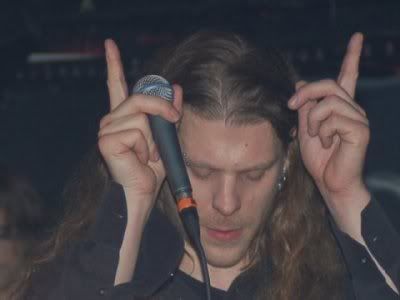 (photo:
Vlad
)
otvorena sa novim albumom (Nekrolog 43), uz, pa hmm..divnu muziku sve je zvucalo, prosto receno dobro,(nije bilo onako standardno da se cuju samo gitare a elektronika ne ili obrnuto, vec sve kako treba) (ne znam sta su uradili u Demiji), uz vidno dobro raspolozenje kako grupe tako i publike, gde smo cak an drugom bisu dobili pravu
poslasticu
:
AmoK - akusticnu verziju
. fantazija.
volim kad je i bendu lepo kao nama u publici.
definitivno jedan od najkoncerata ove godine za mene
foto albumi:
1 (
Anamarija Vartabedijan
)
http://www.flickr.com/photos/13424276@N03/sets/72157603086758917/
2 (adeilla)
http://www.flickr.com/photos/27359612@N00/sets/72157603149245625/

1:25min Traumtänzer-a sa koncerta:
diaryofdreams.de
(photo:
ShadyKat
)
Dalje // More >>