Porub, 17.06.2011.
Kulturni centar Rex, Beograd

Proslo je vec dva meseca od poslednjeg, za mene specijalnog, Poruba** i mojih reci Koneynu da "cu nabaciti ceo snimak na tjub cim...." no Arbeit macht frei je ucinio svoje. Ali sada je sve tu, ceo nastup od oko pola sata ;)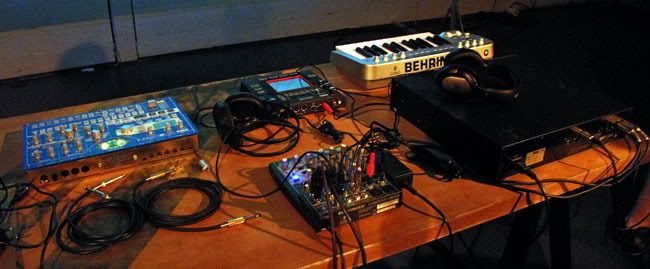 Na Porubu#06 gledali smo nastupe Shrink-fma (+ Flowpro video) u prvom delu veceri, a potom dugo ocekivne Abadrozu i Koneyna sa net-etikete Àsino Elettronico, uz promociju fotografija idejnog tvorca Poruba, koje se mogu videti u toku Abadrozinog i Koneynovog nastupa. Koneyn je najavio da ce biti uzivo koliko god je to moguce u elektronskoj muzici ("bez laptopova, automatizacija i slicnog") i jos neke tehnicke detaljcice ("Peđa će biti na Korg EMX-u sa svojim elektro bitovima dok ja slažem slojeve preko sa X3 sintisajzerom i Kaoss pad-om"); poznavajuci njihov dosadadnji opus, sa velikim ocekivanjima, ostalo je jos samo docekati taj petak. Zanimljivo je da je upravo tog dana bilo jos nekoliko vrednih desavanja u gradu, izmedju ostalog i izlozba "U senci tavora" koju nam je predstavio sam Thomas Köner licno, i gotovo je neverovatno da se nista nije preklapalo - te se moglo stici na bas sve.




Moje zvezde veceri bili su A+K te su tako ukrali vise mesta za utiske, no meni se i Shrink-fmov nastup skroz svideo, bilo je dobrih delova a stihovi uzivo su bili++ detalj. Upustila sam se u opusteno upoznavanje sa muzikom i vreme je proletelo..Nije mi bio poznat rad Shrink-fma, ali kako mi je pre nekoliko godina dao neku sjajnu muziku, imala sam poverenja. Kosta je u pravu kada kaze da je uzivo bilo upecatljivije nego na snimku dole, pre svega jer smo sedeli ispred platna, a ne sa strane odakle je snimano, zahvalicemo se mom odsustvu snalazenja u trenutku kada je to potrebno. Desetak minuta Shrink-fma:



Nema potrebe da pisem vise utiske o Koneynovom i Abadrozinom nastupu kada su se vec culi, samo spomenuti da sam osetila pravu milinu u toku a posle mi je srce bilo puno...Mogu samo da kazem jedno Hvala!. (Posle toliko dragih koncerata u poslednjih nekoliko godina, port-royala, Neubautena, Tearpalma na uvce, Lajka, Gang gang danceova i plejade drugih, zapitala sam se na koji nacin moze obican smrtnik izraziti zahvalnost za to sta je iskusio, za tako fine zvucne talase, atmosferu, lepotu, snagu i imploziju emocija? I zasto se posle uglavnom svede na tanak recnik (bilo je odlicno, prelepo, slatko, Mocno!)..)
Zajednicki program je delovao kao saliven i u delovima gde je bilo improvizacije; s druge strane su obojica pojedinacno dolazili do izrazaja, u nekim momentima se jasno moglo razaznati ciji pecat nosi muzika. Moje misljenje je bilo da je moglo samo malo glasnije, ali to nije nesto sto je umanjivalo nastup:



>>.mp3 nastupa (~49MB)

Koneyn je napisao svoje utiske i detalje sa nastupa i izdvojio deo, prepocujem da se gvirne u post na njegovom sajtu.

@Borjan Grujić flickr
@Shrink-fm myspace
@Koneyn
@Abadroza
@Àsino Elettronico

**Ideja večeri Poruba je da se video prezentacijama, multimedijalnim izložbama i koncertima predstave novi i mladi autori eksperimentalnog izraza. Autor projekta Porub je Borjan Grujić, diplomirani grafički dizajner Visoke škole likovnih i primenjenih umetnosti u Beogradu, student Istorije umetnosti na Filozofskom fakultetu u Beogradu.